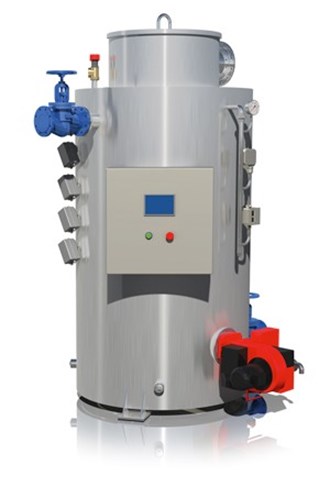 The PARAT MVH is a vertical smoke tube hot water boiler. Vertical design gives the smallest possible footprint and increases the flexibility when placing the boiler in a limited space area.
The oil burner is mounted at the side, easy accessible for inspection and maintenance. The combustion chamber is well dimensioned for burning of MDO and HFO. The boiler is delivered as a complete unit, insulated and preassembled with all valves and instruments, oil burner and control panel.
The Hot water boiler can be delivered with integrated electrical heating elements. The immersion heaters are installed along the side of the boiler shell for easy access and maintenance.
The control system is designed to achieve an unmanned engine room. The system is fully automatic and operates with electronic controllers and electric/pneumatic actuators. The panel is mounted on the boiler side. All control of the boiler panel is operated from the local touch screen. Boiler PLC can be connected to main control system by standard ethernet/profibus/modbus communication.