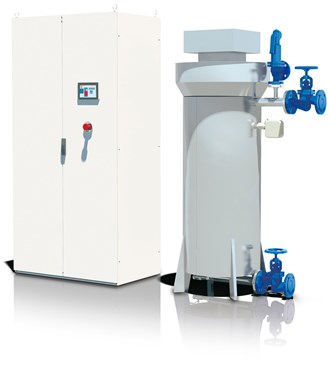 The PARAT Electrical circulation steam boiler was designed to meet the request for a modular and easy to install alternative to MGO fuel for auxiliary boilers on existing vessels in operation. By integrating the ECS in your boiler you have the option to maintain your steam pressure from an electrical power source (shore power, spare generator power etc.). The unit can be installed on any kind of existing steam boiler system and is also a good solution for newbuilds where increased fuel flexibility for the steam system is required.
The electrical cabinet is not directly connected to the boiler unit. This ensures a low temperature in the electrical components. The cabinet is standardized, and type approved according to the NEK 400. Included are fuses, contactors and complete safety system. As an option the unit can be delivered with a main power switch.
The boiler unit is designed for vertical or horizontal installation depending on the layout and space availability around the main auxiliary boiler. Inlet and outlet connections to main boiler will be done on site.
The ECS can be delivered as a standard modular unit in capacities up to 500kW, which is equivalent to 750kg steam per hour. Larger capacities can be provided upon request.


---
---