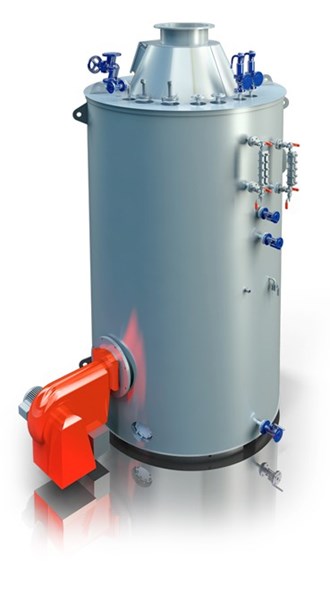 The PARAT Vertical Pin-Tube Boiler is the ideal solution for vessels that require a lightweight steam boiler plant.
The boiler is of vertical design with pin tube bundles fully immersed in the water and steam evaporation in the upper section. The burner is side mounted, thus ensuring optimal inspection and maintenance access. The combustion chamber is well dimensioned for burning MGO, MDO and HFO. The boiler is supplied as a complete unit, insulated and preassembled with all valves and instruments, oil burner and control panel.
Fittings and equipment are in accordance with class requirements. Our main equipment manufacturers supply high standard products. The burner can be supplied for oil, gas or dual fuel.
The control system is designed to enable an unmanned engine room. The system is fully automatic and operates with electronic and electric/pneumatic actuators. All operation from the boiler control panel is done from the local touch screen. Boiler PLC can be connected to the main control room with standard ethernet/profibus/modbus communication.
Capacity
(t/h)
D (mm)
Inclusive
Insulation
H (mm)
Inclusive
Insulation
Weight
Transport
(tons)
Test
Weight
(tons)
1.0
1.600
3.350
3.5
7.0
1.5
1.700
3.450
4.0
7.7
2.0
1.900
3.450
4.5
9.0
2.5
2.000
3.550
5.0
9.5
3.0
2.100
3.650
6.0
12.0
4.0
2.300
3.850
7.0
14.5
5.0
2.500
3.950
10.0
19.0
6.5
2.700
4.050
11.0
21.0
Technical data at an operating pressure of 10 barg.
We reserve the right to make changes.